NCOei 1-hour eCourses, Free!
Life Skills, DV/BIPP & DWI/DUI VIP(S), HIV/AIDS Awareness, Teen Parenting
Get started today for free! Enroll after signing up. Includes enrollment proof and certificate.
100% Online 15-minute Free eCoaching
Includes Free Workbook/journal - Click the tile below to learn more:
1. All eCourses, eCursos, 2. Free (Gratuito) 1-hour eCourses, 5. Mental Health Empowerment Coaching

Mental Health Engagement Free 15-minute eCoaching Program, Psychoeducational Rehabilitation eCoaching Designed for Delinquency Intervention

MHE 15-minute eCoaching Session for use in court or probation. Psychoeducational rehabilitation for delinquency intervention, including pre-recorded coaching, question, answer, feedback survey. Includes Enrollment Proof, Workbook, Certificate, FREE
Life Skills Professional Enrichment
The Ultimate Guide to Resume Creation: 1-hour, Free
Take this course by RehabAssist.Thinkific.com if you were ordered by a Judge or probation department to take a life skills enrichment or community service course.
Life Skills Professional Enrichment
How to Get a Job at Lowes/Home Depot, 6-hours, $17
Take this online course by RehabAssist.Thinkific.com if you were ordered by a Judge or Probation Officer to take a life skills or community service course. Includes an instantly emailed certificate titled: Life Skills Professional Enrichment Online Community Service, 1-hour Credit
Life Skills Professional Enrichment
How to Get a Job at Walmart, 6-hours, $17
Take this online course by RehabAssist.Thinkific.com if you were ordered by a Judge or Probation Officer to take a life skills or community service course.
If you ask, we may build it.
Need a different course? Different hours?
If we don't have the course you need, we may build it for you! Contact us today to discuss the creation of a custom course (please allow 48-72-hours for course creation).
Testimonials
We hear you and your thoughts matter to us!
Palabras Muy Importantes
Comment: es un programa muy importante para toda la sociedad que devieran de darcelo a los estudiantes de intermedia para que no sufran de adicion porque cuando yo me criaba no avian la mitad de estas drogras Rated 5 out of 5
Application Well Beyond
I thought the content was very good and had application well beyond dealing with Alcohol or drunk driving. I found that it helped me with a number of issues I was having being too sensitive to the views of others. There were other inspirational messages that I found to be a good stimulus for taking action in my life.
Easy to Expect Permanent Recovery
I have learned much about addiction and am sharing videos with my family to help healing. After investing over $100,000 in rehab programs, and 10 years in AA, I feel your program has finally helped me. With your program, it is easy to expect permanent recovery.
Aprendi Cosas
Aprendi cosas de las cuales nunca entendi en mi vida.
Important Key Notes
Things that slipped my mind and this course sparked a flame and now I think I'll have a new added style of fun with my kids!
Great Titles
There are great titles and well done! I found this topic very fascinating, and I believe it should be taught in regular school system for all parts of society.
Excellent!
I am a recovery pastor. And a recovered drug abuser. My thoughts were, I know all I need to know. Well I was wrong. This is an amazing well planed program. And the knowledge I gained I believe will help me in my own quest to help break addictions in others. I saved several of the videos and literature to share with my recovery group. Thank you for a great experience.
Life Skills
I thought the text was very informative and I love listening to the videos, but they were a bit long and I would rather listen to them in full at a later date and time. The end quiz was a bonus as I was able to see how much I retained from my reading.
Amazed and Grateful
I am totally amazed!! GRATEFULL.Thank you for creating such an amazing helpfull, usefull well needed service and available to all!! Wow ! #enlightenment #Truth #light #ambie
Wonderful and Very Inspiring.
This was wonderful and very inspiring. Doing this course for 40 hours helped changed how I view myself and the necessary changes I need to make in order to live a more meaningful and joyous life. I loved the topics on the essentials of success, mindfulness, confidence and meditation.
NCOei Affiliates
Partnership/Collaboration
Certification Tuition
NCOei provides the best education for court or probation, not the most expensive.
eCourses are 100% online and include enrollment proof & certificate. Call to schedule ePrograms (online content, personalized eCoaching) for an additional fee of $50 per one-hour session (paid directly to the NCOei coach). eProgram fees listed on the right, include a 1-hour eCoaching session. ATTENTION COURT OFFICIAL: ePrograms include a certified eCoaching session letter.
Life Enrichment, Self Development eCourses & eCoaching Programs
Awareness, Prevention, Intervention, Behavior Modification, Cognitive Skills Development eCourses & eCoaching Programs by Mental Health Engagement
Design: Psychoeducational rehabilitation designed for cognitive development and certified  for use as professional continuing education or in court or probation or on parole. 
Frequently Asked Questions:
What exactly is a decision making, impulse control course?
Conation. • A term derived from the philosopher Rene DeCartes to describe the point where body, mind and spirit are aligned in decision making. Reconation refers to altering the process of how decisions are made.
How is decision making altered? Altering decision making and changing behavior begins with thought, but it doesn't stop with thought because before there is thought, there is environment and exposure to that environment. So often we make the devastating mistake of committing our lives and our time to meaningless activities – and these activities shape our decision making and our response to impulses. Everyone wants something more out of life, but maybe aren't sure what it is . . .maybe they've tried to make changes in the past, without success . . .they may keep experiencing the same setbacks and don't know why or they have a specific goal, but don't know how to reach it . . .these are the core dilemmas that NCOei eCourses are designed to explore, guiding students to the online masters, teachers and speakers who specialize in teaching anyone how to accomplish anything they seriously want and help others do the same—because our success lies in our ability to provide a great service that will attract a great pay. NCOei course content is designed to help students discover the simple ways to transform their health, economics, self-concept, self-esteem and gain compassion, enthusiasm and a new direction in life.   The world is your sandbox — create what you want! Take an NCOei eCourse if you want to learn more... 
Click here to learn HOW TO ENROLL IN A COURSE.pdf
NCOei Psychoeducational Content:
Awareness, Support, Hope, Inspiration, Motivation, Action...
Result: Cognitive skills development: Life skills enrichment, integrity, emotional intelligence (EQ), leadership, charisma, empathy, compassion, confidence… I love this! I want to learn more… NCOei Education Content Overview.pdf
CLICK HERE TO LEARN HOW TO ENROLL IN A COURSE.pdf
ENROLLMENT INSTRUCTIONS:
How do I sign-up/enroll in a course?
STEP 1: Click a course category. STEP 2. Scroll-down-to-find-the-title-&-hours-needed. STEP 3. Click BUY, sign-up, complete purchase!! For enrollment help call/text #936-444-6508 - Business hours: 8am-5pm Mon-Fri (PS. If you text us after hours allow 12-24-hours for response)
NCOei eServices Provider for Court or Probation.
eCourses, ePrograms and Certified eCoaching, eCounseling Sessions- Approved For Juveniles and Adults by the NCOei Advisory Board of Licensed and Certified Physical and Mental Health Professionals.
100% of the judicial system is now accepting online education for court or probation due to CV19. Courts have actually accepted face-to-face appearances via Skype for quite some time. Now more than ever the court systems are looking for new online providers of online content and personalized eCoaching. This nationalizes the potential client market for NCOei Rehabilitation Impact Education Coaches. If you are interested in providing rehabilitation impact education eCoaching and you are a psychologist or a certified health or life coach, send your inquiry to Office.NCOei@gmail.com. Currently, we are offering NCOei Affiliate programs, which includes your own personal website containing your own courses as well as NCOei courses and all documentation necessary to approach court systems nationwide to offer your own rehabilitation courses and/or coaching based off of the NCOei content. All NCOei courses sold on your own site equal a 50% profit sharing with you! Contact NCOei to ask about our Affiliate program. Questions? Email us at Office.NCOei@gmail.com
GET MOTIVATED GET INSPIRED TAKE ACTION
NCOei.org eCourses, ePrograms & eCoaching Sessions are accepted by most courts. Please confim acceptance with your court official before enrollment.
American Integrity Rehabilitation (A.I.R.)
A Harris County JP Court Services Provider Since 2015; Founded in 2013 by Val Catt
NCOei National Court Ordered Education Institute, LLC is an American Integrity online education certification company from which students can access certified ecourses containing online rehabilitation and mental health resources including educational websites, talks, presentations and lectures pre-recorded by experts in various legal, mental health and rehabilitation fields as well as question, answer, feedback, survey sessions with a master rehabilitation coach.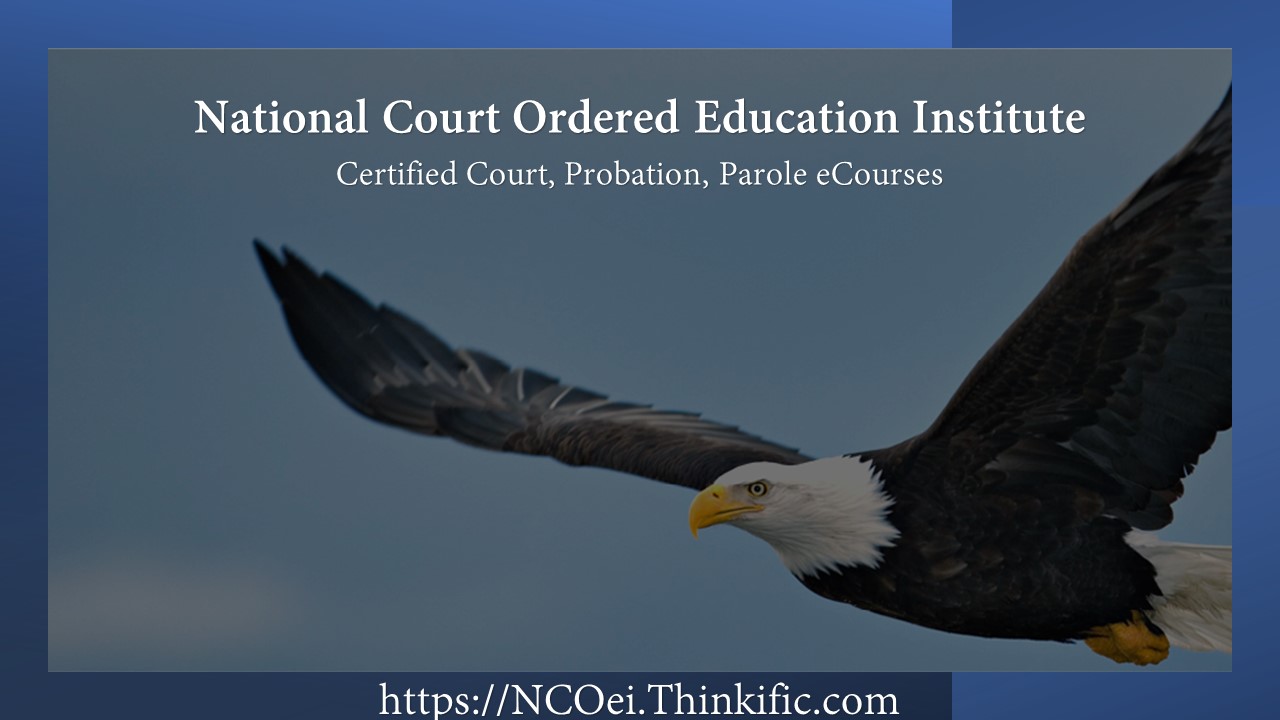 DISCLAIMER Students receive enrollment proof, progress reports and a certificate of completion.  Enrollment is final; no refunds. The information contained in the courses of this site are only intended to be used as certified awareness education of which all references are available free online. Any specific professional advice such as legal, medical, mental health or otherwise must be obtained by an actual licensed or certified professional of your choice.
FOUNDERS The concept for affordable certified court ordered rehabilitation educational eCourses and ePrograms was conceived by Valerie Catt Joglar, MA, CMMHC and Daniel Antonio Joglar in 2013 after Daniel was cited in high school and court ordered to take anger management and decision making. NCOei American Integrity Courses for rehabilitation was founded by Valerie Catt Joglar and became a service provider in Harris County and surrounding counties in 2015.
AMERICAN INTEGRITY eCOURSES Harris County JP Court Program Service Provider since 2015. It is the mission of NCOei to offer transparent, affordable and quality rehabilitation education that provides hope, inspiration, support and encouragement to follow the path of Integrity, to the best of your ability and in every given moment to become the best version of you. Questions? Email us at Office.NCOei@gmail.com
NCOei 8-hour Coaching Survey Scholarship Program
Click below to apply now!